Luxury Holidays in Bhutan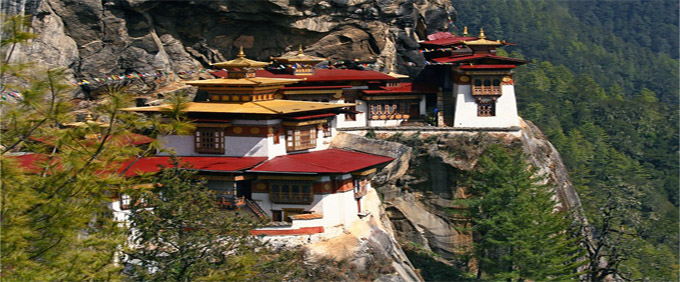 Bhutan with her legendary beauty is a wealth of life in Himalayas. Although it measures only 110 miles from the north to south and 200 from east to west, Bhutan - called by its people Druk Yul, "the Land of the Thunder Dragon" -- is home to a remarkable variety of climates and ecosystems. From its stark and striking mountains, to its lush green forests, fertile valleys, ancient ruins and uncorrupted ancient culture, Bhutan is an esoteric delight that holds everybody in its thrall.

Essentially, the country is divided into three major land regions: plains and river valleys in the south; a mid-Himalayan (5,000 to 14,000 ft. high) area north of the valleys; and the mountainous lands in the Himalayas, which range from 14,000 to 24,000 ft. above sea level.
The Country has been visited by a great many saints, mystics, scholars and pilgrims over the centuries who not only came for their personal elucidation, but blessed the land and its people with an invaluable spiritual and cultural legacy that has shaped every facet of Bhutanese lives. Visitors and guests to the country will be surprised that the culture and the traditional lifestyle is still richly intact and at the degree to which it permeates all strands of modern day secular life. From the traditional woven garments to the prayer flags on high mountain slopes, from the built environment to the natural environment, from the religious mask dances to the folk dances, this cultural heritage is proudly evident and offers a unique cultural setting.

Bhutan's unique natural beauty unites with a wide range of cultural values, languages, customs, and friendly social atmosphere. Carefully preserved between high mountains, Bhutan was never colonized and she has always protected her genuine culture in a natural environment. Bhutan, far less explored and catalogued, is still a mystery for the most people around the world. A land of legends, Yeti, folk tales, Buddhist spirit and peace.