Luxury holidays to Maldives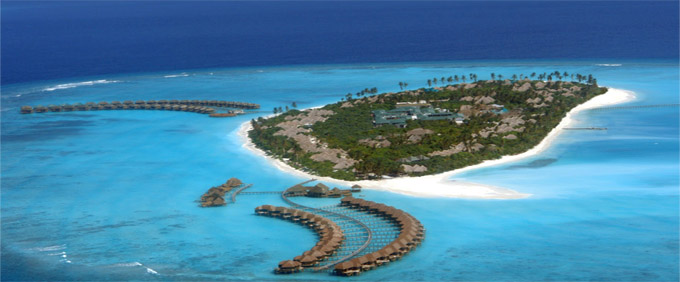 Maldives, a thousand 'Robinson Crusoe' islands, massive lagoons with different depths and infinite shades of blue and turquoise, dazzling underwater coral gardens; a perfect natural combination for the ideal tropical holiday destination.

However there is more to the Maldives than just that 1,190 coral islands , forming an archipelago of 26 major atolls. Stretches 820 kilometres north to south and 120 kilometres east to west. 202 are inhabited, 87 are exclusive resort islands.

White sandy beaches sparkling in the sun alongside crystal clear lagoons would be an idyllic place to spend a perfect holiday.

Origin of the Maldivians are lost in antiquity, but history reveals that the islands have been populated for over 3,000 years ago. Early settlers were travellers on the Silk Route and from the Indus Valley Civilisation. Inherently warm, friendly and hospitable by nature, it is easy to feel comfortable and relaxed with a Maldivian. Not only do you discover aspects of the planet denied to most people, but you make a lot of good friends as well!

The Maldives is famed for its rare underwater beauty. The profusion of psychedelic colours and the abundance and variety of life underwater have fascinated divers and snorkellers since Maldives was discovered as a diving destination. The highest level of visibility that one could expect- sometimes exceeding 50 metres - and warm temperatures throughout the year makes diving in the Maldives a delight you would want to experience over and over again. The Maldives has some of the best dive sites in the world and many visit the Maldives repeatedly for the sole purpose of diving.

All resorts in the Maldives have professional dive schools with multi-lingual instructors and conduct courses for beginners as well as the advanced. Many of the resorts have excellent house reefs. Just a short swim from the beach and snorkellers too can experience the same pleasures from the surface.