VISHWAS MAKHIJA – MANAGING DIRCTOR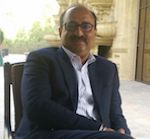 Vishwas is an achiever in the true sense. At a time, when people in India were not even aware of Tourism as a career, he was well on the way to trekking through the Himalaya – his first love. From a modest career starting at a young age of 20, trapezing through India as a whole, to being the owner of Luxury India Holidays, he has come a long way in a span of 25 years. The journey itself has been quite fascinating. His first steps towards entrepreneurship were in 1996 when he set up his first company – India Insight Tours Pvt Ltd. Since then, there has been no looking back for him. Soon after In 2004, he set up his second company Luxury India Holidays Pvt. Ltd, catering to the high end special traveler. Also, with an active experience in the Himalayas from 1987 till 1996, he developed a separate portal for adventure tourism by the name of India Adventure under the umbrella of India Insight Tours P L.
He has held the post of Vice - President of American Society of Travel Agents (ASTA) – India Chapter in the past. Vishwas has also had the privilege of serving the Tourism fraternity as The General Secretary and then Treasurer of Adventure Tour Operators Association of India. Currently he is helping his friends in the adventure industry planning the AGM coming up in Kerala soon. That is to mention only a few of the feathers in his cap.
Other than travel, Soccer is another passion Vishwas has. So much so that he is the President of The Football Club Barcelona, India Chapter. He loves to cook as well. He can whip up some amazing Lamb curry or shrimp curry. His friends al over can vouch for his exceptional cooking skills. Vishwas is a people's person. Quite popular among business partners, friends and his working team, Vishwas believes in living life to the fullest. Synonym to his name (Vishwas which means Trust), he firmly believes in putting faith in people and life. And his faith is reflected in this decision to open upto 03 overseas offices of Luxury India Holidays through his friends – in USA, Spain & South America. And this is just the beginning…..
MONISHA MAKHIJA - DIRECTOR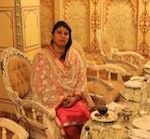 Born and brought up in an Armed forces background, Monisha had been forever on the move with her parents from one deputation to another, which probably ignited the wanderlust in her.  At a very young age, she learned to travel and to appreciate it as well.  Her striving spirit, and attitude met her match when she met with Vishwas. It was the start of a beautiful relationship and Monisha and Vishwas have been married for more than 02 decades now.
Together with Vishwas, Monisha as well had a vision and dream in mind when they opened their first company in 1996. A qualified Fashion Designer, Monisha joined forces with Vishwas to design itineraries and was soon heading operations with a fast growing team under her.
Soon Luxury India Happened. Right from designing the Logo, and setting out guidelines on which Luxury India would run, Monisha had a clear picture of what she wanted out of the company, how things had to work, what could be counted as Luxury and how her team had to go about meeting and greeting clients. She trained her team first hand by taking them on one by one and letting them observe while she met and briefed clients.
Luxury India Holidays Pvt. Ltd., came into existence in 2004, under the guidance of Monisha and Vishwas, who after having spent 10 years in the adventure market mainly, were now ready to take on this new challenge of catering to the High End clients, ready to make a mark in this field as well. The rest as we say is history. There has been no looking back, and now after being in the industry for 10 long years, Luxury India Holidays is all set to take on the World!!!!!!!!!!!!!!!!!!!!!!
Monisha was on a sabbatical for about 05 years, but is now back in full force. She heads the accounts department now.
YOGRAJ – ASSISTANT MANAGER, ADVENTURE TOURS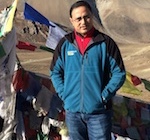 Our oldest and most valuable person, Yog Raj was born amongst the Himalayan Mountains. He hails from the state of Himachal which in itself means snow covered.  So trekking and Mountaineering comes naturally to him.  He was only 13 years old, when he went on his first trek, he hasn't looked back from then on. Even before he completed his formal education, the call of the Mountains got to him, and Yograj has been listening to his heart ever since.  The University of Delhi gave him a Master's Degree in Travel and Tourism and hence opened doors and paved the way for his growth.
Over a time frame of 15 years, Yograj has accumulated vast knowledge about the Indian Himalayas, has trekked the major routes that India has to offer- The Alpine Trek (Pin Parvati, Hamta Pass, Chandra Taal, BaraLachala, Malana Route, in Manali), Treks in Zanskar and Ladakh region. He has climbed The Friendship Peak, The Pha Konda Peak and The Shetidhar Peak in Manali, Stok Kangri in Ladakh amonst various others. He is a qualified Mountaineering Guide and has as well been The Mountaineering Instructor for The Himalayan region for 7 years.

Yograj joined Luxury India Holidays in 2010 and has been continuously sharing his vast wealth of knowledge with his team and clients.  His personal experiences on the mountains are his strength and he is willing to share his stories with all of us. He is our Adventure Expert and handles the entire department right from the time we have a query, to planning the itinerary, costing and execution of operation in the field.
Yograj is to Luxury India Holidays – The Adventure Specialist.
TANVEER SINGH - ASSISTANT MANAGER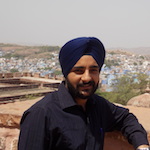 Born and brought up in Kashmir, The Northern Himalayans region of India, Tanveer pursued a Diploma, Bachelor and Master's Degree in Tourism to get a stronghold in his chosen Career. His move to Delhi after university gave us and him the opportunity to collaborate his career along with our fast growing pace. He joined us in 2010 and has been with us ever since.
Tanveer is an expert at itinerary planning and costing. There is rarely anything that misses his eye, and calculative mind. His zeal towards absolute customer satisfaction culminates in the delightful experience of India for our travelers. With the passage of time, His sales & contracting expertise and relaxed demeanor has helped him built up strong relationships with vendors. This works out to be his biggest assets. Apart from contracting with various suppliers, Tanveer is also an expert at Ayurveda Tours. For the last few years, he along with our Russian counterpart Anna, have managed to strengthen our Ayurveda Tours sales in the Russian Market. So much so that earlier in 2017 we have come up with our first Ayurveda brochure in Russian.
His mode of relaxation is community work in Sikh Temple and as he says "The way of Chanting". His passion is to travel and experience new products, be it within India or overseas. History, geography, culture and traditions fascinate him. He loves meeting new people and making friends.
STANZIN OTSAL – MANAGER TOURS, OPERATIONS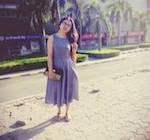 Stanzin hails from one of the most beautiful places in India – Ladakh, The land of the Moonscape.   Born & Raised in the picturesque Nubra Valley, she has been away from her home town ever since she finished High school.  She completed her education in Chandigarh, the planned city of North India, and then from Jammu   "the summer capital of J&K state" .Ever since she was a child, Stanzin had been intrigued by the growing number of people who started visiting Ladakh, high up in the mountains. She would see more and more people coming into her hometown, as she grew older and tourism to Leh and the surrounding monasteries increased.  This keen interest led her to choose Tourism as her subjects of masters at University.
At an on campus interview, she was selected among many of her batch mates to come and work for Luxury India Holidays.  She has been associated with us ever since.  Stanzin is one of the core members of the Luxury India Holidays team and is responsible for Groups & FIT Operations.  Although she seems petite, her resolution is pure steel. Her intrigue is ever present and she puts it to good use, working in the Pre Sales Team, designing new programs and special interest, theme programs especially for groups... During her journey with us, Stanzin has accumulated a lot of knowledge about India, and has travelled extensively all over the country, gaining product knowledge as well as firsthand experience to a very good extend...
Stanzin along with her capable team, looks after the Entire operations for both Luxury India Holidays as well as India Insight Tours. Her endeavor and Motto is to deliver the best attentions to the guests, right from the time a guest comes up with a thought to travel to India through us, till the time we bid them farewell, she is wholly dedicated to giving the most memorable experience of their holidays and customizes it to the core to suit the travel needs of the guests.
She strives for perfection and gets there…….always.
SUNIL KUMAR – ASSISTANT MANAGER, PRE SALES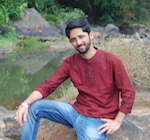 Born and brought up in the picturesque valleys of Himachal Pradesh - The Northern Himalayans region of India, Sunil joined Luxury India Holidays in 2011 after graduating from university. His childhood friends were the peaks around him, which influenced him into learning more about the kind of people that lived here, the cultures that they had and how they were different from him. This is probably why the travel Bug got to him and lured him into studying tourism. Sunil started working for Luxury India Holidays fresh out of university when he was selected in the onsite interview.
Starting from an Executive in operation, he soon showed his inclination and deep interest in itinerary planning. He has traveled extensively over India, thereby further increasing his knowledge about the various destinations. He moved to Sales bringing with him a fresh approach to Itinerary planning and management.  His strong forte has been Wildlife Tours – especially the Tiger Reserves in India and Nepal.  Kanha and Bandhavgarh in the heart of India remain his strongest destinations, but he is also game to further increase his stronghold on the rest of India.
Within a short span of time, Sunil has shown his mettle with his dedication, and active involvement. He now heads the Sales Department.
MADAN NAUTIYAL – SENIOR EXECUTIVE, PRE SALES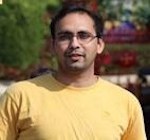 Madan, like his counter parts in the office has spent his childhood amongst the Himalayan mountain of Uttarakhand. Right from that he can remember, he has seen tourist all around him. People come to Uttarkhand for pilgrimages, for trekking, for climbing, etc., this influenced Madan to start his travel saga, with Trekking, biking, cycling, mountaineering, paragliding, camping, white-water rafting. His stint at Nehru mountaineering institute in Uttarkashi further strengthened his resolve to step into the world of Tourism professionally.
Madan is a certified Travel professional. His journey with Luxury India Holidays started 4 years ago whereby he started working in the sales department. With his hard work and dedication he soon gained experience in creating unique, customized vacation experiences with detailed and personalized travel arrangements. He also has expertise in Amadeus (G.D.S.), Wetu Travel Technology and facile travel software.
In his years with us, Madan has traveled extensively throughout Indian subcontinents; Nepal, Tibet, Srilanka, Bhutan, Dubai, Abu Dhabi, Ras Al Khaimah, Sharjah, Fujairah and many other destinations.
VRINDER MEENIA – SENIOR EXECUTIVE, PRE SALES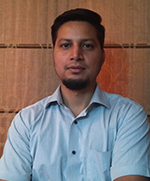 The Artist amongst the Team at Luxury India Holidays, Vrinder is in a world of his own creations. He is the creative brain behind all the Newsletters that go out from us. Born in city of temples 'Jammu'. Spirituality & meditation are deeply imbibed into him.
Growing up with so much devotion around him, it is no surprise that a beacon beyond us guides him through his work.  A Master's degree in Tourism led him to us in 2012. His management skills, tranquil and complaisant mannerism are his keys strengths which make him an excellent choice for interaction with our clients. He instantly puts your mind to rest with his serene identity.
Vrinder is currently also studying Spanish language which is an added advantage for him and us. He is at Present working as a Senior Executive in sales, where by helping in creating Special Interest groups and routes. . He works on our regular newsletters, and as well works on the regular day to day mails that come in
ARSHAD MATTOO – SENIOR EXECUTIVE, PRE SALES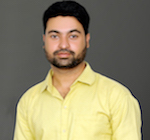 Arshad reminds you of the sweetness of Kashmir. His soft demeanor, his speech, all reflect the beauty of Kashmir here is the sweltering heat of the plains.  He hails from Kishtwar, in the State of Jammu and Kashmir.  The newer addition to the senior staff, Arshad has been with Luxury India Holidays for 04 years now. After his school in his hometown, Arshad, came to Jammu where he earned his Bachelor's degree in Travel & Tourism Management. His first job was with Luxury India Holidays which he joined from May 2013 and has been associated with us since then.
Arshad looks after Pre-sales which include designing and costing programs for our clients, and developing some out of the box routes. His ability to forge strong relationships and his interpersonal skills are key contributors to his success.
Believing and leading one day at a time to the fullest, with clarity in purpose and passion, Arshad is prone to picking up the positive in every situation. He enjoys music and travelling as much as he loves the diversity of India.
RUSSIA AND CIS.
ANNA SHALAEVA – MANAGER BUSINESS DEVELOPMENT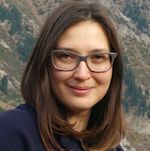 Started her work with India and Indian subcontinent as sales manager in tour operator company in Russia, Anna has understanding of needs and challenges of our partners. That helps make work easier, find quick decisions and satisfy our demanding customers.
In last 2 year she became stable bridge between Russian and CIS partners and both sales and operation teams. Spending about 3-4 months every year in India, doing sight inspection and improving her knowledge, she became an expert who able give very correct advice for choosing hotel or program.
EUROPE AND SOUTH AMERICAS.
DIPESH SEREL – VICE PRESIDENT SALES & MARKETING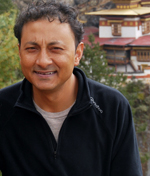 Dipesh Serel is VP of Sales & Marketing for 'Luxury India Holidays'  based in Spain. He has been able to bring 'Luxury India Holidays' closer to the Spanish market andhas helped to fortify LIH's hold even deeper in Spanish market.
Dipesh was a freelancer in the travel business in Darjeeling and hence understands the tourism product very well. He has excellent marketing skills and manages LIH's marketing efforts to perfection. Dipesh has been part of LIH since inception. The terrific partner have been actively contributing towards the growth of LIH in the Spanish and European market and is indispensable to our growth.
Besides travel, Dipesh is very passionate about music and has been playing the guitar since his school days, though one has to be very fortunate to see him performing. He has a passion for photography and has traveled to various parts of India and its subcontinent gaining product knowledge. Dipesh,  with years of living in Spain truly understand the need of a European traveler and help the team in India to develop products that cater to their needs and hence act as a support to the product development team.
NORTH AMERICA
CESAR BIGGERI – BUSINESS DEVELOPMENT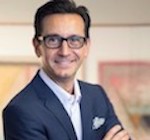 Began his career early as a tour operator-booking agent designing the most amazing and sophisticated tours for Latin America. His passion was always in hospitality and after working on the retail travel side, he transitioned to hotels. After a few years as a hotelier, he was welcomed into the Four Seasons family. Cesar worked at Four Seasons Beverly Hills in Corporate Sales looking after the UK and East Coast Entertainment markets and high-end leisure segments. He also specialized in and oversaw the Middle Eastern Royal Families staying at the hotel. Following Four Seasons, Cesar made a transition into Global Sales and worked 10 years for the Jumeirah Group representing their luxury portfolio including Burj Al Arab, the most luxurious hotel in the world.
As Jumeirah's Global Director of Sales for The Americas, Cesar wore many hats selling Corporate Travel, high-end leisure travel and groups on the US west coast, east coast, Mexico, Brazil and Argentina. Year after year, Jumeirah showed impressive growth in revenue and brand awareness.
With 30 years of knowledge and understanding of how each segment works, Cesar possesses impeccable customer service skills and invaluable international experience when it comes to luxury travelers, hotels and services. Cesar's understanding of various cultures also brings the often-necessary flexibility required to meet and exceed the expectations of his clients and their most discerning travelers.
DIEGO GUTIERREZ - BUSINESS DEVELOPMENT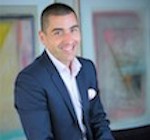 Diego brings years of experience in operations working for Marriott Hotels and Starbucks Coffee. He is passionate about exploring the world and helping you get there. He is friendly and has great customer service skills which is key in what we do on a daily basis. His fresh approach, optimism and creativity energizes the whole team and enhances the working environment. Diego is a native of Argentina and has traveled extensively in the US and Latin America offering great knowledge and experiences.